This year's Thanksgiving wasn't so traditional. My dad's family was in town, and it was a very Jamaican Thanksgiving..there
was
turkey, but also escoveitch fish, curry crab, rice'n'peas and other jamaican delicacies....and all I wanted was pumpkin pie! I am American!!!!
So I talked to Kiersten pre-thanksgiving and said plz plz plzzzzz hook it up with a slice of pumpkin pie!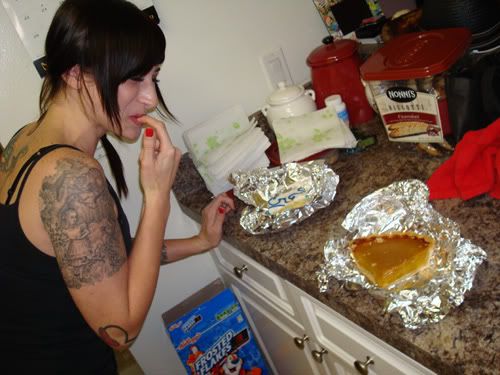 After family left my house, I headed over to her place and we exchanged desserts. I brought a slice of birthday rum cake for her and then I got sum a dat pie!!!
I started a new job on Wednesday, and now my weekends are engulfed with work. I am not complaining, because I need the money, however it just sucks during the holidays because friends are in town, and I work till midnight. I did manage to see Ari for a little bit and eat some filipino goodies, and also see Janine--who always rules.